Happy Thanksgiving!! While I am going to miss cooking, laughing, and spending time with my family on this glorious holiday, I am beyond thankful that I get to spend the day with 20 of my favorite 3rd graders. There are so many blessings in life and we each have so many things to be thankful for.
One of my favorite Thanksgiving traditions is building  the paper turkey with my family. Each year we sit around our table and are given a piece of colored paper cut into the shape of a feather. We are given about 5 minutes to write down a few things we are thankful for. Once we have all written our blessings we pass them to the person sitting at the head of the table (usually my dad). He will read each feather our loud and we have to guess who wrote each feather. After each feather has been read aloud we attach them to the paper turkey's body and hang him somewhere near our table. Sharing our blessings with one another always brings such joy to the table and many, many fun stories.
What are your Thanksgiving or holiday traditions?
Imagine the image below with words instead of hand prints on the feathers…
and shrink the size down a bit.
Googly eyes are a must ;)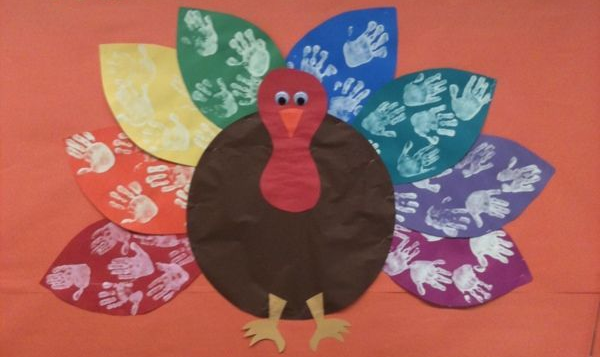 The image below could be a fun variation of our tradition!
Just edit the feathers!