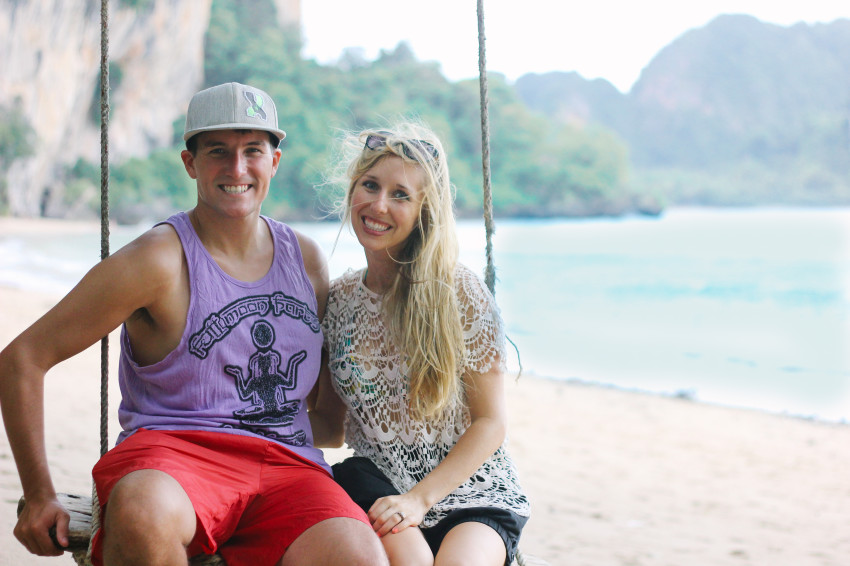 After only a few days back in Nakhon and we are already dreaming up plans to return to Railay Beach. The Lord truly spent extra time designing this postcard worthy scenery. I am so glad Abba thought it was a good idea to put sand and oceans together. There is something delightful about listening to the waves crash onto the sand as you read His Word. While God is the same everywhere, I am different at the beach. I can hear Him and see Him more clearly. It is my happy place- especially when my husband is soaking up the beauty by my side.
In Railay, not only is the beach picture perfect, but the enormous cliffs that frame the beaches are perfect. If you ever want to be overwhelmed by the splendor of the King, visit Railay. The sheer magnitude of the cliffs alongside the turquoise blue water will humble you and remind you just how small you are in comparison to our Heavenly Father and His designs.
Caleb and I traveled to Railay Peninsula with 2 other couples who we have become friends with. One couple is from Ireland and one couple is from England. We stayed at the Tonsai Bay Resort on Tonsai Beach. We absolutely loved the resort. We had a little bungalow with a front porch overlooking the lush palm trees, bamboo trees, and massive cliffs. And each day we had a few monkey visitors. Each morning we would walk to our resorts beachfront restaurant and enjoy a free breakfast and unlimited coffee/tea while soaking in our beautiful surroundings. Oh, did I mention this resort only cost about $26 a day?
While we loved the Tonsai beach and the fact that there were only a couple other people on the beach at any given point, next time we would like to spend more time exploring Phra Nang beach. Phra Nang was a decently short hike from our beach and has only one resort on the entire beach. To anyone traveling to Thailand, Railay peninsula is a MUST! Truly, pictures do not do this place justice. {and our weather wasn't the greatest, so you can't tell just how incredible the water was}